I've been writing some form of a newsletter for six years, which is hard to believe when I look back and think about it. I've written on topics from early career success to original thinking. The last few years have been focused on burnout prevention – something we've all needed in this era of work.
I've weaved together a nice tapestry through these six years. I've built an engaged audience of 500+ from Google, Microsoft, Zillow, and more that say this work is distinct and helpful. This has kept me going.
But there's been one thing missing that I've known inside all along. I was placing good work into a drawer but that drawer wasn't quite on its tracks. Functional yet askew.
Or said the way we marketers like to say: I haven't had product-market fit with my work. 
I've been putting decent stuff out there but it hasn't been packaged in the right way.
Burned out of burnout
Here's what I mean. Burnout is an omnipresent topic and something you're all too aware of. There are articles and research about it every day. I'm frankly burned out of seeing content about burnout.
I've run into three problems with my hyper-focus on creating content around preventing burnout:
Burnout is a relative scale. There's no clear point when you've crossed into burnout which makes it hard to identify.
It's hard to admit you're burned out in our hustle culture where busyness is a badge of honor.
You don't have a life goal of preventing burnout. You have a goal of living more life.
To activate your ability to live more life, you need your relationship with work to look different. And that all starts with how effectively you can log off.
Learning how to log off
That's why today I'm thrilled to launch School of Logging Off.
Named because work teaches you to be always on, but nobody teaches you how to effectively log off. Until now. That's School of Logging Off.
It's the evolution of my work six months in the making. All the content will still be helpful in preventing burnout, but my north star is helping you redefine your relationship to work without sacrificing your next promotion.
This is what we're all after. We don't live to work. We work to live.
Our interpretation of this has never been as strong as it is now. In fact, 38% of people, in a recent report from my employer Qualtrics, said that the importance of work to them had diminished during Covid. And in the Employee Disillusenment Report (love this name!) by HR company Oyster, career advancement ranks 5th for knowledge workers in their overall life goals.
Clearly, we want a different relationship with work, but achieving it is REALLY hard. Your leadership team, through your company culture, play an outsized role in creating conditions that allow you to redefine your relationship with work. However, they've been futzing around, if they are even trying, to get it right for years. All we have to show for it right now are work norms creeping back to what 2019 looked like 🫠
Since you likely can't count of your senior leadership, you have to take matters into your own hands. You need a system to play self-defense against work. I wish it didn't have to be this way but clearly it does.
What to expect
I've built School of Logging Off with the guiding core principle that you don't actually have to choose between traditional career growth and redefining your relationship with work.
It's an ambitious principle but I'll show you how to make it happen through the three core components of School of Logging Off.
If you're looking for quick weekly tips and inspiration…
1)  Sustain  – This is the same newsletter I've sent 100+ issues of reimagined for sitting under the School of Logging Off banner. Every Thursday, you'll get one actionable tip to redefine your relationship to work without sacrificing your next promotion. 
If you're wondering how to pull it all together…
2)  School of Logging Off Guide  – Learn how to redefine your relationship to work in one quarter with my end-to-end playbook which contains the mindsets and tactical skills to win life back.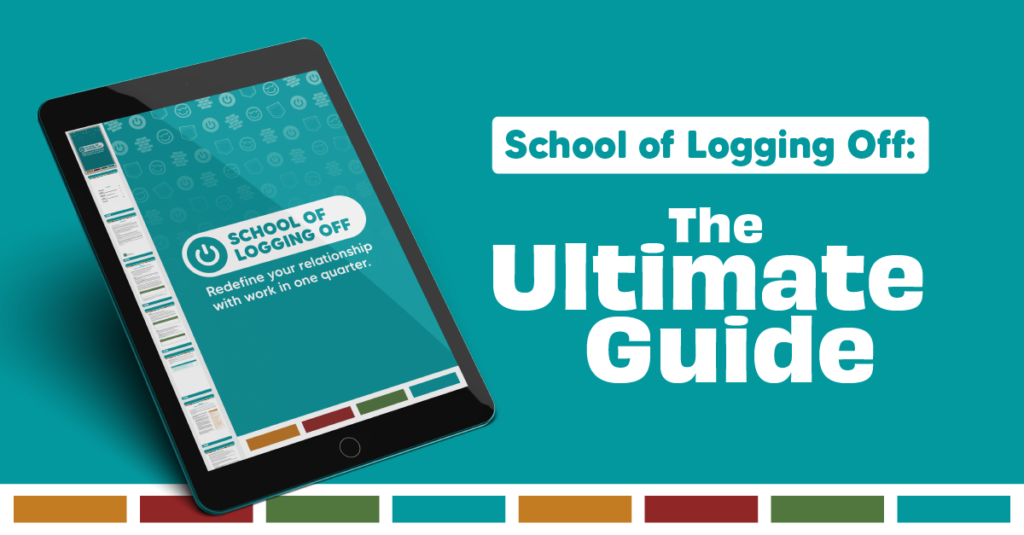 If your situation is unique or you need an accountability partner…
3) 1 on 1 Call – Let's grab 60 minutes to discuss your unique challenges and make a game plan so you have a path to overcome them.
The work to redefine your relationship is not easy. It doesn't happen overnight. But it's possible with a proactive and strategic game plan. That's why I created School of Logging Off.
In the four years since I redefined my relationship with work, I work about 38 hours a week, take more time to recharge than ever, and have also produced the best work of my career. Redefining your relationship with work is a win-win for you and your employer. You get more time and happiness in your life and they get your very best work.
Wishing you luck on this journey and am glad to have you along for the ride ✌️
---
P.S. I'd like to thank my creative partners for their support of this launch for which none of this would be possible. Amanda Wowk Creative is my not-so-secret weapon to create words that resonate & drive action for the last three years in my professional and personal work. And Ella Signs design was new to me through this process but she was a joy to work with and brought School of Logging Off to life visually. The finished product speaks for itself. Thank you!